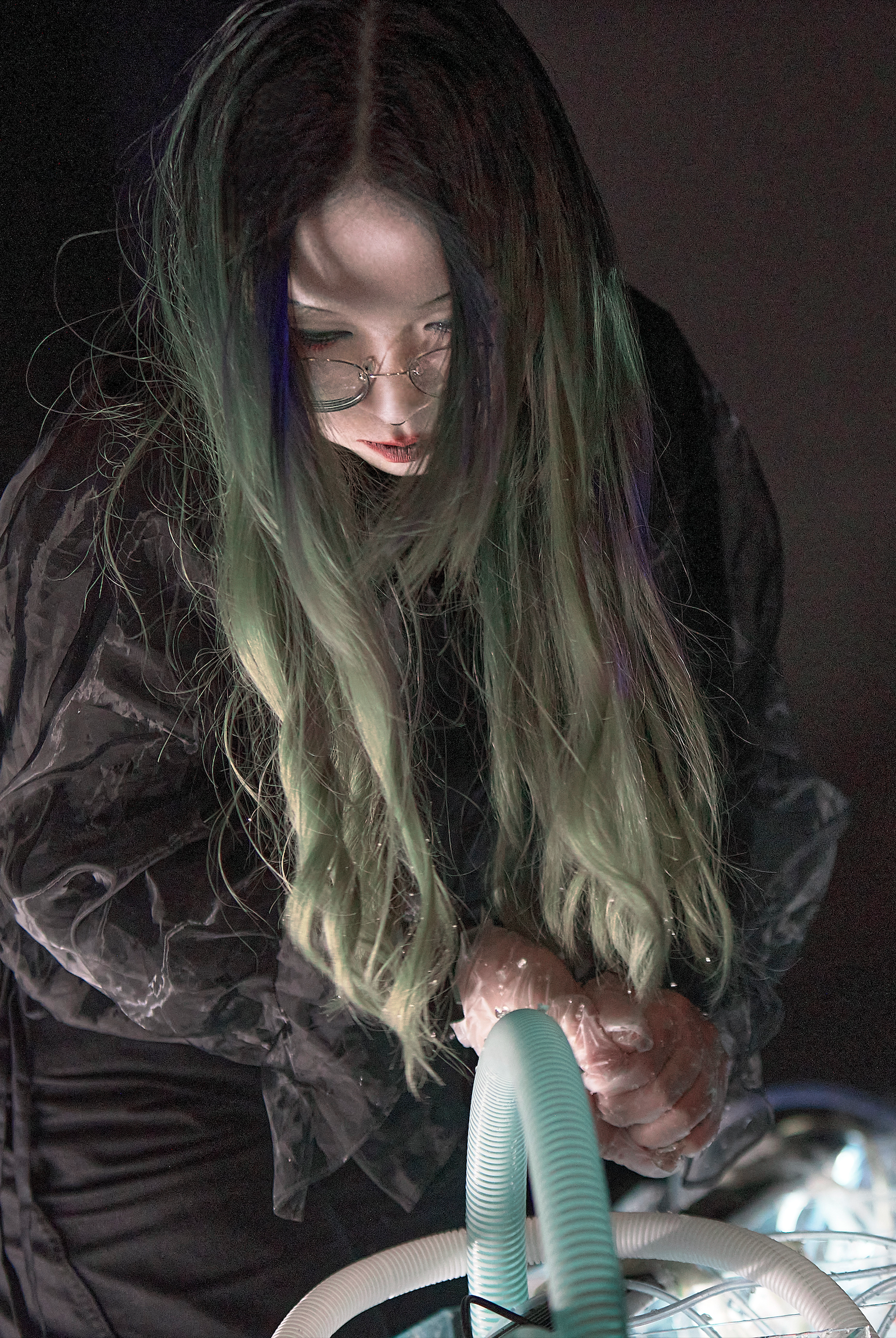 Vivian y. L. is an artist and writer currently based in London. Born in Seattle, WA and raised in Shanghai and Michigan, L. is inspired by their nomadic upbringing and the places they have stayed, and various spaces are examined in their research and practice — transitory and perpetual, abject and complicit, oneiric and surreal, material and immaterial interspaces. 
L.'s works in moving image, installation, performance, prose, and poetry writing are an inquiry into power dynamics, institutions, intersubjective relations, futurity, and the subtleties of violence. Spanning a variety of mediums and processes, L. seeks to use language and multimedia to present a study of the phenomena and connotations of interspaces and non-places, and the contingencies of the in-between in peripatetic contexts. 
They have graduated with first class honours in BA (Hons) Fine Art at Goldsmiths, University of London in 2021. They are currently a master's candidate in Contemporary Art Practice at the Royal College of Art. Their recent shows include 13festivalen at Konstepidemin in Gothenburg (2020), Generate! Festival for Electronic and Performance Art at Shedhalle Tübingen in Tübingen (2019), Mexico City | Art Number 23 at Ovalo Galeria de Arte in CDMX (2019), and Exchange | UAL x GOLD Collective in London (2019). Their writings have been previously published in publications including Lungs Project poetry anthology New Landscapes and Tangle Magazine. 
b. 1999, Seattle, WA, United States
MA Contemporary Art Practice, Critical Practice Pathway, Royal College of Art
BA Fine Art, Goldsmiths, University of London  (
First Class Honours
)
2021   tête-à-tête  |  Glasgow School of Art・Royal College of Art
             at Stereo, 22-28 Renfield Ln, Glasgow  |  23 November 
             at St James Hatcham Building, Goldsmiths UoL, London, UK  |  17-22 June
2020  13festivalen 2020 | Konstepidemin
             at Hus 8, Konstepidemin, Gothenburg, Sweden  |  4 January  
             at Schlachtlaus Club, Tübingen, Germany  |  15 November
2019   Mexico City | Art Number 23  
             at Ovalo Galeria de Arte, CDMX, Mexico  |  5-20 August 
2019   13th June | Group Show and Events
             at Safehouse 1, London, UK  |  13 June
2019   Exchange | UAL x GOLD Collective, Co-curated by
             Goldsmiths Visual Cultures Society and The Curation Society UAL 
             at Deptford Does Art gallery, London, UK  |  18-21 April
2019   Goldsmiths BA(Hons) Fine Art Open Studio Show with Hamburg Exchange
             at Goldsmiths, University of London, London, UK  |  21 March
2018   End of Year Show at St. James, New Cross, London, UK  |  14-18 June
2018   Sound and Language |  12-23 February
             at Library Special Collections & Archives, Goldsmiths, University of London, London, UK
2019   Streetcake Experimental Writing Prize | Poetry Age 18-21 Entry Second Place
             for 'complicity_12.3.9.exe'
Publications - Press & Featured Work 
                     | Poems 'Senecio candicans' 'Sepire'
J u l  202 1  Artisle | Goldsmiths Fine Art Undergraduate Exhibition  |  '-321 °F | in sarcophago vivum aeri'
                     Underground Flower w. Rhizome Parking Garage | Poetry 'Thesis of Instrumentality'
Apr 2020  De Bouwput | The Art We Need Today {Online
} 
                      | 'When vulnerability is the only weapon you wield'
                      '∷' 'complicity_12.3.9.exe' '{Singular Deference}' '1, 2, 3, 4 En pointe et pirouette'
Oct 2019   Pressing Matters | Poetry 'Spindrift' 
                     | Poetry 'complicity_12.3.9.exe'
Sep 2019   Streetcake Experimental Writing Prize Winners' Anthology 2019 | Poetry 'complicity_12.3.9.exe'
Jun 2019    Tangle Magazine Issue 1 | Poetry 'Spindrift'